VENICE LIKE A LOCAL: AN ORIGINAL ITINERARY
You can visit Venice following the suggestion of a common guidebook or take some inspiration from this original itinerary and see it like a real local.
This itinerary goes beyond the most famous attractions, such as St. Mark's Square or Rialto Bridge, that of course you will see during you trip.
In this little guide you will discover some hidden places in Venice.
San Pietro, Castello
San Pietro di Castello is located in the north-east part of the island and it's the most non-touristic place in Venice. One of our favorite, we have to admit.
Here are the Venice Giardini and the Venice Biennale, a famous art organization, but if you love soccer, there's a stadium you can visit, where the Venice football team usually play: the Pier Luigi Penso stadium.
Venetian Arsenal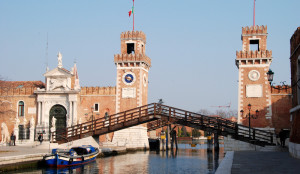 Going back to St. Mark's Square, you can stop by the Venetian Arsenal. Inside this amazing and giant building there are several private exhibition areas or places dedicated to the Biennale.
Dorsoduro
In this district called Dorsoduro, there are a lot of things to see. For example, the unmissable Peggy Guggenheim Collection and the Santa Maria della Salute church. If you have time, go ahead until the so-called Punta della Dogana, with your camera, and get ready to immortalize the sunset.
This is a good zone to go shopping too.
Zattere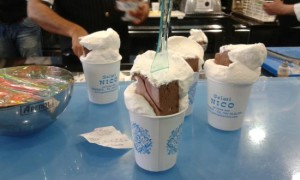 Even If you are on a diet, you have to go to the Gelateria da Nico, an ice-cream parlor, and ask for the yummy "gianduiotto con panna". Some people say that it's a perfect antidepressant, some others swear that while they're eating it, they can touch the sky. You have to try to know the effect it makes on you.
Giudecca
Giudecca island is located in front of the Zattere. It used to be called the "Seals' island".
About 20 years ago, the island was inhabited by bandits and felons, but now it's a safety and peaceful place.
A lot of musicians and artists moved here in the last few years.
The Mulino Stucky is now a Hilton hotel, but it used to be a granary, during the Serenissima Republic. Even if having an aperitif on its terrace is a little bit expensive, the view on the lagoon is amazing.
On the other side of the island you can visit the Casa dei Tre Oci, where there is always a high level photo exhibition.
St. Mark
The district of St. Mark hides a unusual bookshop, called Libreria Acqua Alta. Step by to find a rare book about Venice and to climb a stair made of books.
Strada Nuova and Fondamenta della Misericordia
The best venetian bars, known with the name of "bacari", are all here!
Rialto
If you love to spend a lot of money of simply you would love to visit a luxury mall, you must go to the new Fontego dei Tedeschi. If you have no intention of buying anything, don't miss the view from its rooftop terrace.. that is free!
San Lazzaro degli Armeni Island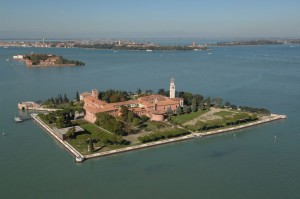 If you want to make your journey really special, you must take a vaporetto and visit the San Lazzaro degli Armeni Island, especially in summer.