EUGANEAN HILLS REGIONAL PARK
The Euganean Hills, occupying the south western part of the province of Padua, immediately north of the towns of Este and Monselice, appear as a green oasis that breaks the monotony of the flat Veneto plains.
With the Regional Law n°38 of the 10th of October 1989 the area has become a Regional Park which stretches over 18.000 hectares and which includes 15 municipalities with a population of about 44.000 inhabitants.
The Euganean Hills Regional Park has the duty to protect the naturalistic, historical and environmental characters of the area of the Euganean Hills and to promote, also with technical and financial supports, the traditional activities and those compatible with the environmental and historical protection requirements.
As well as having a clear natural value there are many historical and cultural elements in the ancient villages, villas, gardens and monasteries that you will find by visiting the Euganian Hills National Park.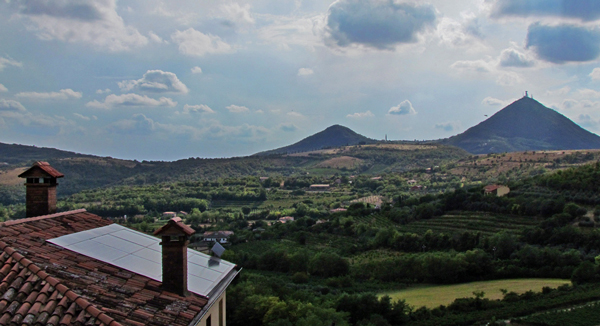 The ancient volcanic origin of the Euganean Hills has produced a singular landscape where steep volcanic cones alternate with undulating limestone ridges. Climatic variations linked to the morphology allow life to typical Mediterranean plants, such as arbutus, heather, oak, prickly pear and alpine species such as beech, cranberry and the beautiful Turk's cap lily. The poetry of the landscape fascinated Francesco Petrarca in the fourteenth century, that elected this places as its own dwelling (in particular the amazing Borgo di Arquà Petrarca which owes its name to the famous poet) in the last years of his life.
From every location unravel wonderful hiking trails available for everyone. The gradients are never high, and roads, dirt roads and trails lead to places of outstanding beauty.
Visit the ancient Abbey of Praglia.