VENETO VILLAS – MONTI BERICI
Villa Barbarico Rezzonico in Noventa Vicentina
This Villa was built by an unknown architect of Venetian school in the last decades of the Sixteenth century. The impressive mass on four floors opens on the first floor with a long colonnade; the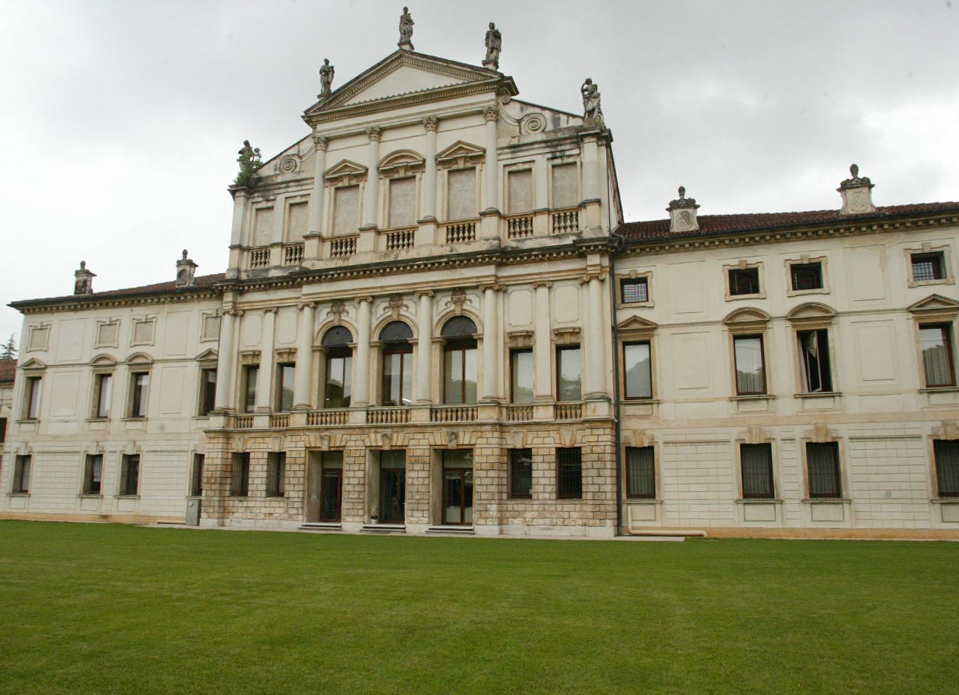 upper floors are, on the contrary, shut up with high and narrow windows. Two steep flights of steps are close to a stately colonnade and lead to an interior endowed with paintings in fresco by Antonio Foler, Antonio Vassillacchi and Alessio Maganza, celebrating the deeds of the Barbarigo family.
(Today the building is used as a centre for municipal offices and it can be visited)
Villa Valmarana Morosiniin Altavilla Vicentina
It was built in 1724 by architect Francesco Muttoni. The building, which can be easily seen from the park, is arranged on lowering sectors: a high central body, two smaller wings and then an hemicycle barchessa (a long lateral arcade). The upper parts are enriched with eightennth century statues. The main hall is richly adorned with paintings in fresco by Pasqualotto. Now the villa is the seat of the University Association for business Administration studies of the University of Padova.
(Generally it cannot be visited, anyway, if asked, C.U.O.A. usuallyallows tourists to enter)
Villa Cordellina Lombardi in Montecchio Maggiore
It was built between 1735 and 1760 by Giorgio Massari. Its wonderful interior has its strong point in the series of paintings in fresco of the main hall: they are by G.B. Tiepolo. Its scenographical French-style park has got a front area (flower-beds and cedar gardens) and a rear one (courtyard, lawn with a fountain).
(It can be visited on pay admission)
 Villa Da Porto Zordan called 'La Favorita'in Sarego, Ponticello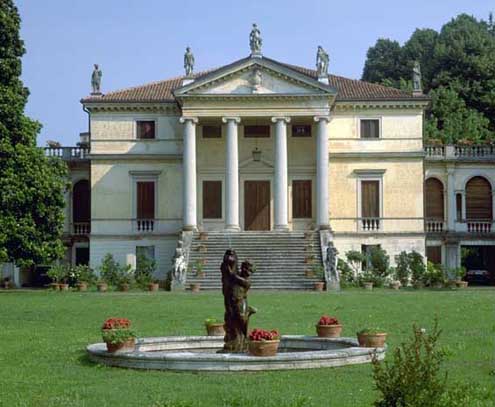 The building is situated on a small hill which names such place and from where you can enjoy a marvellous view of the surrounding country. It was built by Francesco Muttoni between 1714 and 1715.
Villa Pisani Ferri called 'La Rocca Pisana'in Lonigo
The building, probably erected on the foundations of an ancient castle, enjoys a very wide view. The project, dated 1576, is by Vincenzo Scamozzi who recovered with more manneristic outlines, the structure planned by Palladio for 'The Rotonda'. The façade is characterized by a large flight of steps giving on a central enclosed colonnade with Ionic columns.
(It can be visited by appointment)
Villa Pisani Mistrotigo De Lazarain Lonigo
This country house was built by Palladio for the three brothers Pisani – Vittore, Marco and Daniele. It is one of the first works of this architect. The impressive mass is not finished; in fact it completely lacks the colonnade courtyard which had to be placed before the house. Some time ago the building was endowed with very wide barchesse which were so large that they could contain in their embrace, the whole St. Mark Square, as proudly the Pisani used to say. Today only the western side of such additional elements are existent, as they were ravaged by a fire in 1806 and by a violent air raid in 1945.
Villa Querini Stampalia now Baldisserottoin Pressana
Its foundation can be dated back to the second half of the fifteenth century; the actual building contains also some specific elements of medieval castles such as the battlements which adorn the master's residence.
Villa Poiana now Betteroin Pojana Maggiore
It was erected between 1550 and 1563 for Bonifacio Poiana, an influential member of the Town Council.
It is an atypical building by Palladio: here the traditional loggia is replaced by a façade with a tympanum in which there is a sort of arched frieze on pillars; such frieze is adorned with five round holes enclosed between two frames, representing an ideal extension of the pillars. (It can be visited)
Villa Saraceno Lombardiin Agugliaro
The central building, designed by Palladio, had to be placed close to two barchesse with a colonnade.
(It can be visited only outside by appointment)
Villa Fracanzan now PiovenePorto Godiin Orgiano
The villa rises on the boundary of the inhabitated area dominated by its mass. It was built in the early years of the eighteenth century, on the foundations of a previous building, by an unknown architect. (It can be visited by appointment)
Villa Dolfin in San Germano dei Berici, in Campolongo
It is a complex building born between the sixteenth and the seventeenth century, on the foundations od an ancient castle. This villa is not in good conditions but on the whole it has kept a great charm.