PALAZZO CA' VENDRAMIN CALERGI
Palazzo Ca' Vendramin Calergi
, considered to be one of the most elegant examples of the
Venetian Renaissance
on the Grand Canal, is the seat of
Casinò di Venezia
. This unique setting was built by
Mauro Codussi
at the
end of the 15th century
(the construction was completed in 1509). Once a stately home, it takes on one of the owners' names,
Vittorio Calergi
, and from its successors, the
Vendramin
family. The charm of the building was recognised by famous personalities such as
Gabriele d'Annunzio
and the musician
Richard Wagner
. In 1882, the composer was given hospitality in the mezzanine floor of the white wing where he worked on the "Parsifal" score until his death. In these rooms you can visit today the
Wagner Museum
, where unique documents, posters, arrangements, authentic letters and other relics are exposed.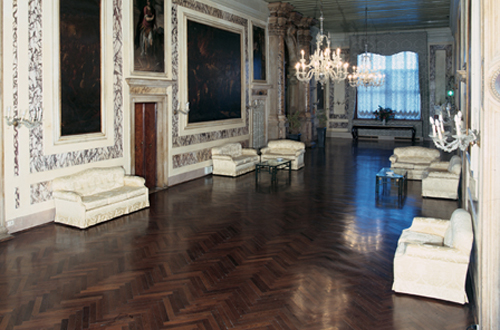 CASINO' DI VENEZIA
In the
1950s
the Casinò established his heart here after having moved from the original venue situated in Lido di Venezia, which is now closed.
This sophisticated theatre of the most classic games is one of the rare buildings overlooking the Grand Canal having a garden and direct water access. It offers truly
unique forms of entertainment
. Inside it is possible to find tables dedicated to Roulette games, traditional card games as well as the most spectacular slot machines. To make your day even more special you can dine at the renowned
Wagner Restaurant
, which occupies the colourful rooms of the Palazzo, the Functions Room on the main floor and the magical garden overlooking the Grand Canal.
CASINO' CA' NOGHERA
Do not forget that another Casinò venue give you opportunity to take your chances.
Ca' Noghera
,
Italy's first American-style casinò
, opened in
1999
not far from Marco Polo airport. It offers over 5,000 square meters of entertainment, including a new poker room for Texas hold'em Poker tournaments. And for those who want make their evening last even longer, there is the Entertainments Arena, staging concerts, theatrical productions and fashion parades.
OPENING TIMES
Casinò di Venezia is open all year round (except December 24th and December 25th)
Slots
11.00am - 2.45am
11.00am - 3.15am Saturday and pre-holiday
Tables
3.30pm - 2.45am
3.30pm - 3.15 am Saturday and pre-holiday
From june 15th to august 31st
4.00pm - 2.45am
4.00pm - 3.15 am Saturday and pre-holiday
ATTENTION:
access to the Casinò di Venezia's games rooms is restricted to
adults 18+
only in possession of a valid ID document (acceptable forms of identification include either an ID Card, a driving licence or a passport). For further information visit the official
website